Scuba diving courses for adults
Is great to be 60 ... and enjoy the good things in life ...  There are still so many thinks to discover!.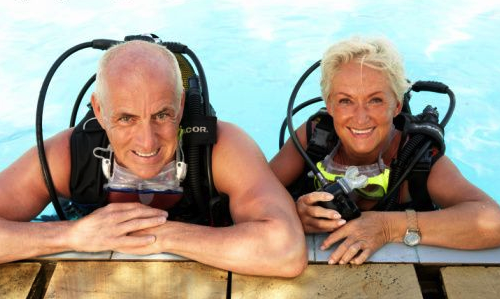 Adventure does not have age or sex !
Seniors, men and women over 60 can enjoy scuba diving at NEMO33 ?
Finally enjoy the pleasures of life for yourself.  Have you dreamed since long time in scuba diving but do not know exactly were or how to start?  We are here to help you blow your first bubbles underwater    .
Scuba diving is not an activity reserved for 20-30 year old people. The equipment has evolved a lot and the learning techniques as well, and on top of all, we are lucky to have NEMO33 in Belgium.  Everyone in the world will like to learn to scuba dive under this conditions of safety and confort.
If you like to feel joy and a new type of emotion, come and do a try dive (baptême de plongée).  And if you like to, you can take a theory course for FREE from you own computer.  If some time you will like to take a scuba diving course that theory course will  be valid for it.  Click on:   ONLINE TRAINING
Are there some physiological limits for scuba diving at your age ?
Being in good health and doing a medical check-up (that authorizes you for recreational scuba diving) will be enough.
Is it scuba diving is recommended for adults?
Seniors dive for the pleaure of discovering a new activity.  It is not necesary to have strong muscles for this discipline based on self control. Jacques-Yves Cousteau was diving still at tyhe age of 80 !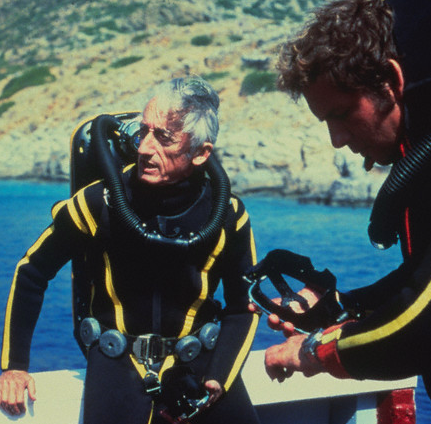 Would you like to start inmediately? Even without paying?  You  can take an online course about scuba diving for FREE and via INTERNET.  If you decide to do the course and obtain the licence, the online course will be VALID as the first part of your open water course.  Click here:    
ONLINE TRAINING
You can come and try scuba diving!  There are two ways: An INTRODUCTORY DIVE that takes one hour or a TDS course that takes 2,5h.  You will find more information clicking in the section COURSES / INTRODUCTORY COURSES.
IMPORTANT INFO :  If you are 4 people interested in taking the same course we will give you an incredible discount !.