Scuba diving courses for kids
The shine in their eyes will surprise you...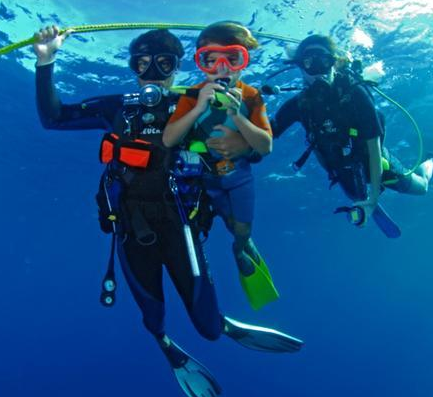 Scuba diving will make your kids dream !
Interview to John Beernaerts, creator of NEMO33
Are kids between 8 and 12 years old welcome to take scuba diving lessons at NEMO33 Brussels ?
To see a kid who is discovering something new is a gift. Even more if they are doing an activity that structures their desires, their achievements and will bring somethjing positive in their lifes.  But of course it is very important not to force the child to practice this new activity.  The interest has to come from him.  The parents job is just to bring the idea and to guide them into a serious and professional structure where scuba diving courses are adapted for children.  NEMO33 is there to give the good bases to the future divers.  Children between the age 8 to 12 are welcome at NEMO33 to the special sessions that the Diving Academy organizes.         .
Which are the physiological limits for kids in terms of scuba diving ?
All their organs are well formed since long time ago.  Only their reactions deserve further attention. That is why NEMO33 agrees with all the scuba diving federeations in stablishing a depth limit for kids.  Kids between 8 and 10 years old should not dive under a depth of 2,5m and between 10 and 12 years old should be limited to a maximum depth of 10m. NEMO33 respect carefully this standards.  The depth of the different levels of NEMO33 correspond perfectly with the dive standards. There is not risk of "slipping" to a deeer area.
Are scuba diving courses convenient for your kids ?
Absolutely. Scuba diving is nor really a physically demanding sport.  The need for self-control forces children to self-discipline.  You can see an increasement in their level of maturity.
How are the scuba diving courses organized at NEMO33 ?
For kids between 8 to 10ans :    SIMPLE INTRODUCTORY DIVE (max. depth 2,5m, duration 1h)  -  45€ / kid.
For kids between 10 à 12ans :   SIMPLE INTRODUCTORY DIVE (max. depth 5,0m, duration 1h)  -  45€ / kid.
For kids between 10 à 12ans :   COURSE TSD  (max. depth 6,0m, duration 2,5h)  -  99€ / kid.
KIDS ARE ALLOWED TO DIVE AT NEMO33 ONLY under the supervision of one of our instructors.
For introductory dives for more than 2 kids, please send an email to: Anne CLAESSENS    event (at) nemo33.com
We organize scuba diving courses for kids during the holidays of:  july-august, Toussaint, Christmass, Carnaval and Easter.  If you are interested please send us an email:   aca (at) nemo33.com
IMPORTANT INFO :  If there is a group of 4 kids that are ineterested in taking the same course, we will offer them incredible discount !