DIVE EQUIPMENT
  WHAT TO BRING TO NEMO33 ?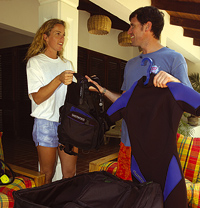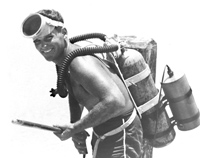 Our concern is to keep the water completely clear and clean throughout the year.

To achieve this goal we limit the entrance of foreign equipments to its minimum.

You will find next to the pool, ALL the equipment you need for your dive.

The rent fee is NOT included in the cost of the entrance.  Only the full tank is included in the entrance fee. Enjoy, travel light!





Some parts of your personal equipment is authorized at NEMO33 :
Your mask and snorkel
Your fins (closed heel fins, with no neoprene boots!)
Your dive computer (it is mandatory for all divers since june 1, 2008)
Your regulator, only if it has an integrated computer and it is international/joke system (DIN regulators without an adaptor are not compatible with our bottles, then not accepted at NEMO33 !)
Small underwater cameras (without external flash)
Wetsuits are not needed – the water temperature is above 30°C – nevertheless,  they are authorized if they have not been used in a natural environment .
What must you leave at the changing rooms ?
Your towel
All bags and backpacks, small or big, and all boxes of all types
Professional photo and video camaras, extenal flashes. See the hours reserved for professionals (click on EVENTS and there on PROFESSIONALS).
What should I definetely leave back home?
Dive bottles  (make your life simple!)
Rebreathers  (see down how to dive with a rebreather at NEMO33)
BCD's  (as a measure to keep the water clean)
DIN - type regulators  (non compatible)
All metalique objects  (carabiners, knifes, clips ...)
Weightbelts and weights  (risk of falling on top of other divers)
Neoprene booties (as a measure of higiene, and to avoid mycotic infections)
Dive equipment for rent in NEMO33 :
Fins : 2,50€ / dive
Mask : 2,50€ / dive
Stabilizating jacket : 2,50€ / dive
Regulator with gauge & octopus : 2,50€ / dive
Divecomputer : 2,50€ / dive
RECOMMENDATION :  Bring with you a 50 cents coin for the locker.
IMPORTANT INFO :  Dives with a rebreather can be done in different schedules.  We open special sesions for this purpose but it is necesary to RESERVE.  Contact us at  +32-2.333.38.35 or by mail ( event (at) nemo33.com ) to hear about the next sesion available.  Frequently this sesions are planned on Saturday or Sunday evenings, but we can open a sesion during another time (a minimum of 10 people is required.  The cost of the dive is 25,00 € per person, even for those who have a discount card).
"The use of a dive computer is COMPULSORY for ALL divers, INCLUDING BEGINNERS.  The rent fee of a computer is included in the price of an Introductory dive offered by NEMO33.  It is possible to rent a computer at the reception of NEMO33 for 3,00€ per dive or 5,00€ per day.  Once you rent one of our computers let us know if you will use it for one or more dives.  WARNING, it is not possible to rent a computer during the last dive of each day".