DIVE SCHEDULES
NEMO33 (DIVING, RESTO, DIVESHOP) are open EVERY DAY OF THE YEAR ! 365 days !
We consider holidays as a sunday. So yes, we are open 365 days a year!
The sessions for recreational diving are the times when the pool is open to the public.  Is is always possible to create other sessions for yourself, your association, your school, your society, etc.  You can contact the department of EVENTS and get to know the possibilities.
TIMING OF THE DIVING SESSIONS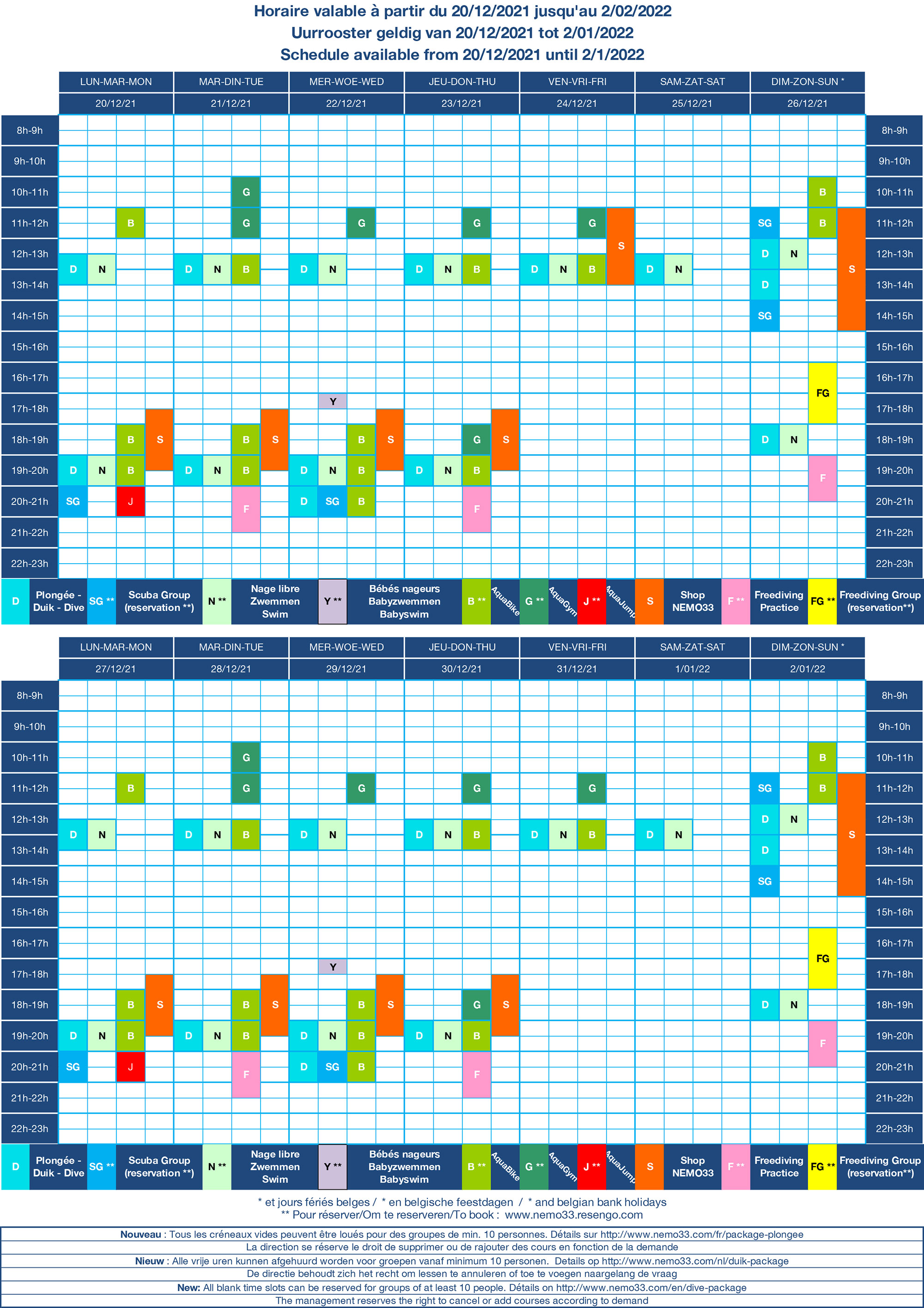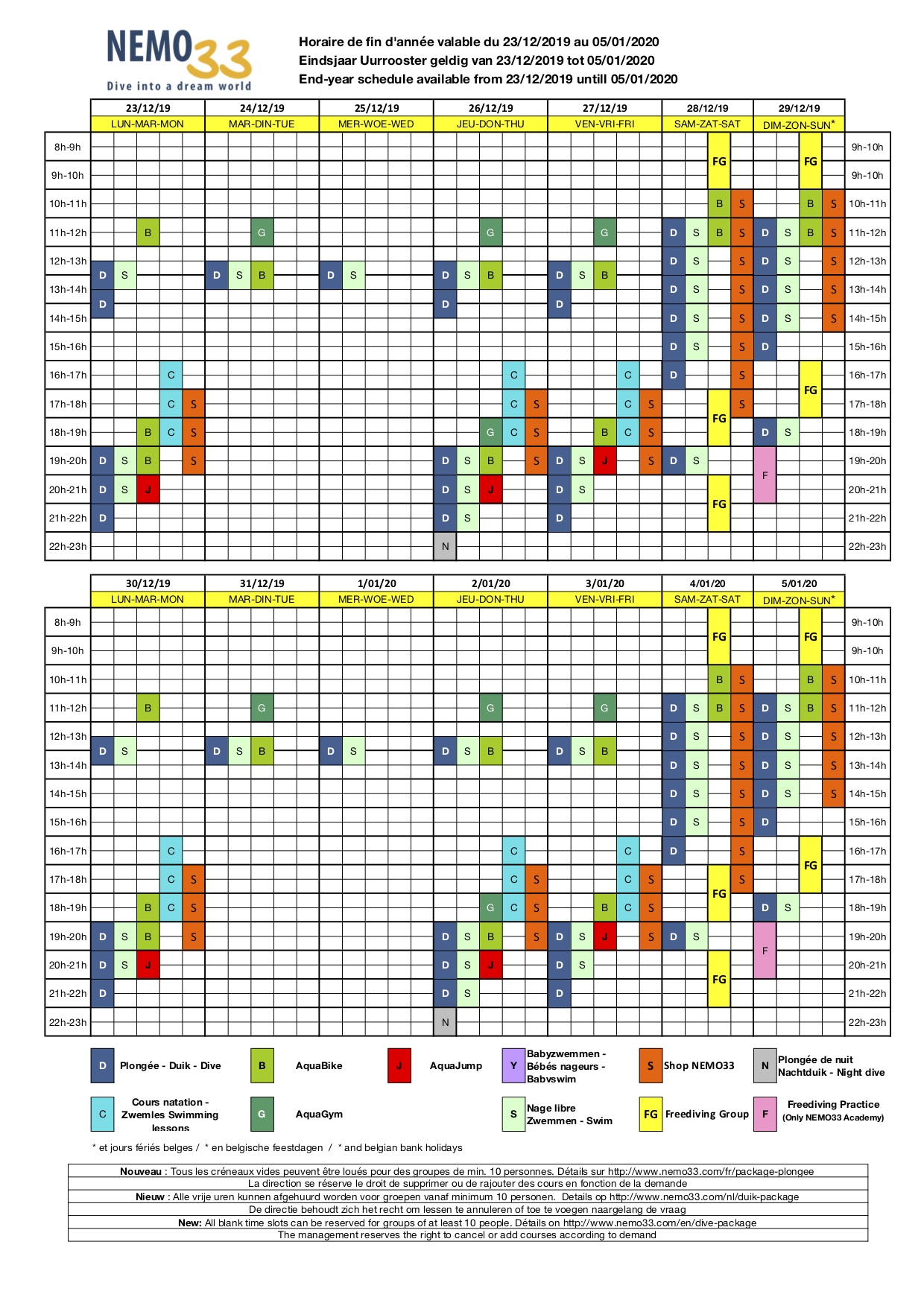 Door Opening:  during the week at 12h00 ;  on W-E, at 10h00.
Check in:  Divers are asked to be at NEMO33 preferably 1 hour BEFORE the start of the dive (minimum 1/2h before)
30 minutes before the dive, all registrations should be FINISHED.  Atention, during the high season (december - march), we have to be rigorous !
15 minutes before the dive, we give a sound signal (ring bell) and the doors for the changing rooms are open.  By that time there is not posible to register anymore!
5 minutes before the dive, a dive briefing will be given next to the pool.
During the first 10 minutes divers enter the water to practice freediving or to swim.  It is not allowed to swim or freedive on top of the deep pit (34 mts) or to descend and/or cross by the underwater section where the caverns are.  Apnea should be done in buddy teams, so that when one descends, the other one stays on the surface supervising.  Static apnea is forbiden. (you can read the complete dive briefing in the section BRIEFING).
After the first 10 minutes, (a bell will ring), the divers are allowed to exit the pool, choose their equipment and prepare their bottles. The dive time should be planned to be out of the water on the next hour sharply.  Dives should not exceed 45 minutes.
Divers are responsible for their dive profile and their safety stop to guarantee their safety and their buddy's.  The rules that apply, depend on each federation and licence of each diver, but it is important to adapt to the reality of a pool-pit like NEMO33.  Between some of the rules that should be followed are:

IMPORTANT :  Divers should plan their dive profile so that it is NOT NECESSARY to do a decompresion stop.  The only stop that should be planned is the SAFETY STOP.  In theory, it shoud not be needed, but nevertheless it is recommended.

SPECIFIC RULE at NEMO33: Divers cannot stay more than 10 minutes (cumulated) in the zone of the pit between -20m and -34m. If the diver makes a second dive the same day, this time is shortened to 5 minutes.

VERY IMPORTANT RULE :  The surface interval between 2 dives can't be less than 2 hours !   Example:  A dive from 2pm till 3pm, can only be followed by a second dive from 5pm till 6pm onwards. IMPORTANT REMINDER : The individual divecomputer is COMPULSORY, specially when dives occurs in a so short period.
At over 45 minutes, all divers should have already exit the pit and everyone should be above 10 mts.
5 minutes before the next hour (next session starts), you will hear a sound signal underwater to indicate you that is the end of the dive.  You should start you your safety stop and exit the water.
All divers should exit the water on time so that the next group of divers can enter the pool.
We ask you to strictly follow and respect our timing / planning so that the next sessions do not  get altered or interrupted.
---
IS IT NECESSARY TO RESERVE IN NEMO33 ?
* RESTAURANT
At the restaurant, even if you area small group, is better to do a reservation by phone.  The number is: 02/333.38.30 (direct N° to the restaurant - from 11h00 to 22h00 from monday to sunday). (To call from outside Belgium dial  +32.2.333.38.30).



* DIVING from  May 1 until October 31   -   LOW SEASON  (SUMMER)
It is almost imposible that there is no place for you to dive.
- SMALL GROUPS of LESS THAN 10 PEOPLE : 
There is not need to call or reserve.  There will be place for you and we do not take reservations for groups of less than 10 people.
- GROUPS of MINIMUM 10 PEOPLE : 
It is better to do a reservation.  By phone:  02.332.33.34 (If you are calling from outside Belgium, please dial:  +32.2.332.33.34  or by mail to:   dive (at) nemo33.com
* DIVING from  November 1 to April  30  -   HIGH SEASON  (WINTER)
It is possible that at CERTAIN TIMES there is not place for you to dive.
To avoid this inconvenience, try to chooose the schedules with less amount of divers:
from monday to friday, at noon (dive at 12h30, check in between 12h00 and 12h15 max),
from monday to friday, during the evening at 19h00 (check in between 18h00 and 18h30 max),
sunday afternoon (dive at 17h00 and 18h00, check in one hour before the dive).
The dives at 20h, 21h and 22h from monday to friday are usually more full
The sessions with the biggest amount of divers are the weekends from december until march.
- SMALL GROUPS of LESS THAN 10 PEOPLE : 
There is no need to call or reserve.  We do not take reservations for small groups.  The best option is to choose one of the schedules less frequented (look up) or build up a group of minimum 10 people and reserve.
- GROUPS of MINIMUM 10 PEOPLE : 
It is much better to RESERVE.  Please call:  02.332.33.34  (If calling from outside Belgium, dial:  +32.2.332.33.34) or send an email to:   dive (at) nemo33.com